Henna has been used to dye skin, hair and fingernails from ancient times. Here in our village, most of the homes have henna trees. We use fresh henna paste regularly for both hair and skin care. Applying henna paste is a part of ou tradition and it always brings back fond memories. But now seeing black henna disguised as real henna and causing so many side effects to innocent people is really upsetting.
What Is Black Henna?
There is no natural ingredient called black henna also called as kali mehandi in Hindi. It is a mix of chemical substances along with henna powder, unlike traditional henna powder mix black henna contains only a small proportion of henna powder.
It usually contains chemicals like para phenylenediamine (PPD) which is one of the reasons it stains are skin so quickly and in black color. Black Henna can also be made with other ingredients like kerosene gasoline paint thinner and benzene.
What Is Henna?
The word henna or mehandi refers both to the plant and the paste made out of the leaves for dyeing. The botanical name of henna plant is Lawsonia inermis. It is a small shrub with pointed narrow leaves and fragrant white flowers. I love to apply fresh henna paste got by grinding the leaves with water, we can't do intricate designs with freshly ground paste as the paste is coarse but I still love it.

Henna As A Dye For Hair & Skin
Traditionally we mix henna powder with black tea, lemon juice, sugar and eucalyptus oil to make into a paste and use it for applying mehndi designs on the hands.
To apply henna to dye hair, we mix henna powder with aloe vera powder and amla powder and tea decoction the previous night and leave it in an iron kadai in the overnight. The next day morning, we mix in an egg and apply all over the scalp and hair. We let it soak for an hour before washing and conditioning the hair.
Both these methods are the traditional ways to apply henna for both skin and hair and these both will never give black colour. You will only get brown or reddish brown tint depending upon the ingredients it is mixed along with.
To get black colour with henna for dyeing hair, the only way is to use it along with Indigo powder and you can find the method of doing it here.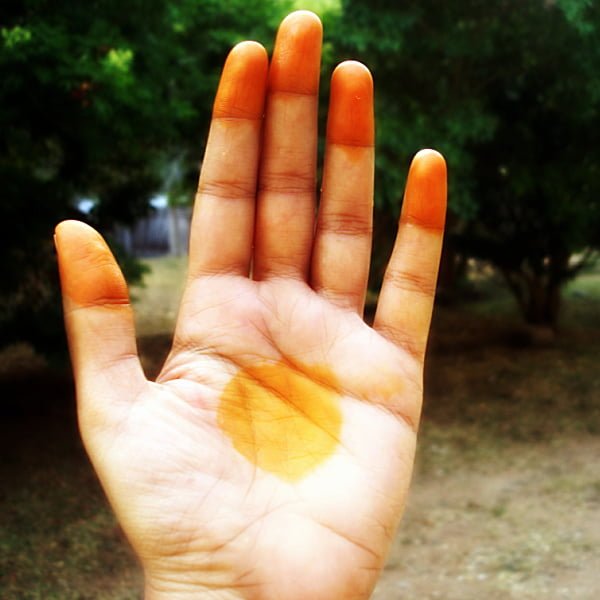 Side Effects Of Black Henna
PPD can cause severe allergies, swelling, severe pain, intense itching, permanent chemical allergies and also permanent scarring.
Years back one of our relatives applied black henna and immediately after application, her whole hand got swollen and she had to be hospitalized and the scarring remains till today.
Black henna can also be made with gasoline, benzene and paint thinner can cause adult acute leukaemia. The problem with black henna is most of the black henna cones that we get in India does not specify the chemicals that are added in it.
The percentage of PPD in black henna paste can vary from 10 to 80% which explains why some people have a mild allergic reaction or none and some people have to be hospitalised.
If a person uses black henna and develops a chemical allergy to related products and if the person unknowingly uses any other related chemicals, the consequence can be life threatening.
If a person becomes sensitized to black henna then taken have allergic reactions to many chemicals including perfumes printer ink chemical hair dyes sunscreen and even some medications and the allergy can be very very serious
Usually black henna allergy starts after few days of application, just because our skin does not initially react to black henna does not mean that we will develop allergies later.

How To Find If Chemicals Are Mixed Into Henna
Always talk to the henna artist before applying mehndi. Ask about ingredients in the henna paste and also ask about the final colour. If the artist replies that it'll be black, please avoid getting mehndi from that person.
If you can't recognise any of the ingredients that artist mentions, you should be extremely cautious. If in doubt you can do a very small patch test, black henna usually stains the skin very fast.
You can also smell the henna paste, I love the smell of fresh henna paste it has a pleasant earthy smell on the contrary black henna has a chemical smell.
We have a huge henna tree in our farm and we use the fresh paste for treating many skin problems like toenail infection, cracked heels, etc. It is a plant with wonderful healing properties and never harms our skin or hair and it is very sad to see many people suffer because they think black henna is real henna, it definitely is not so please be very careful.