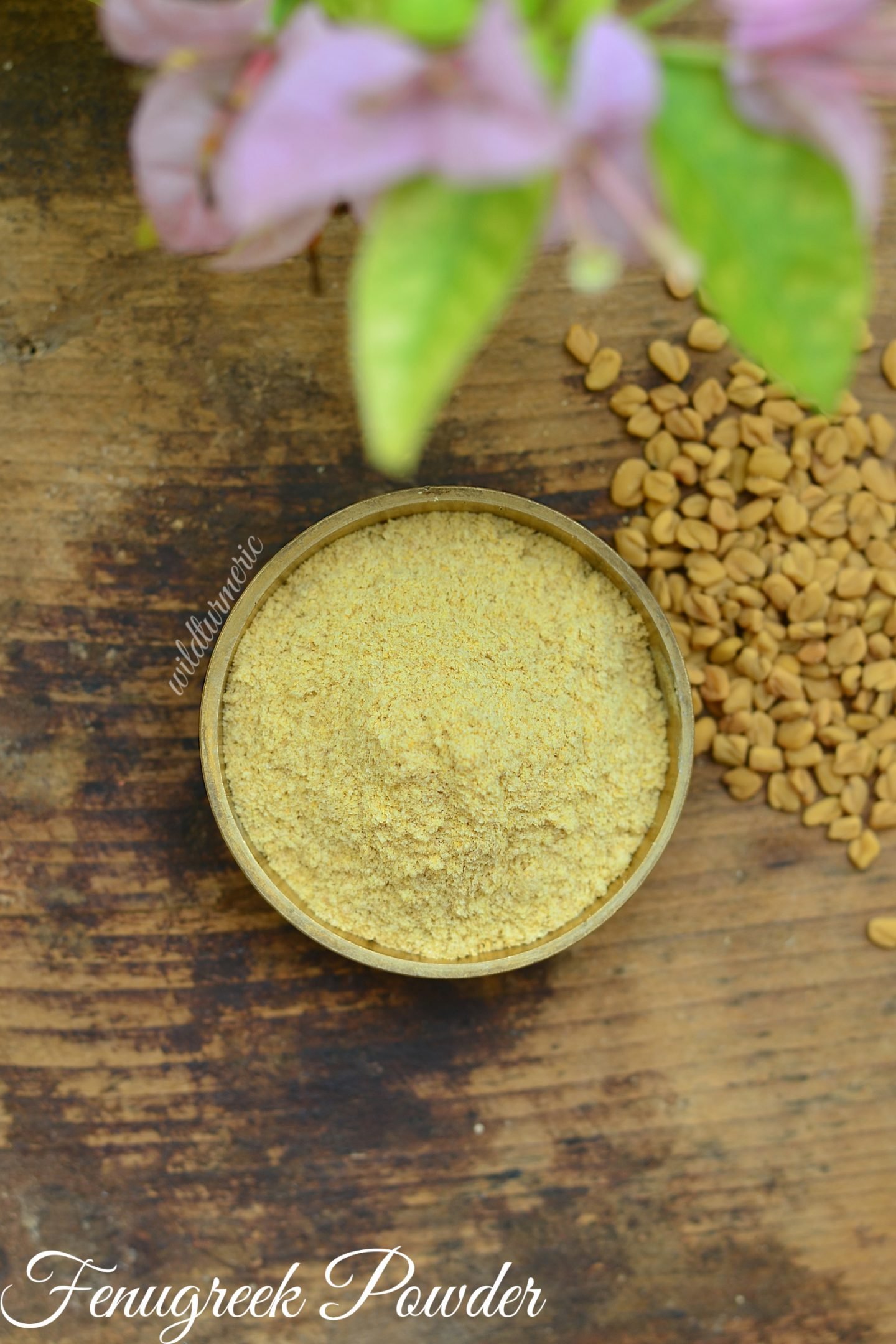 Fenugreek popularly called Vendhayam in Tamil, Menthulu in Telugu and Methi in Hindi is truly a nature's miracle. We use both the seeds and powder in cooking and also in remedies, it's botanical name is Trigonella Foenum Graecum. Fenugreek powder has amazing hair, skin and health benefits. I have grown up seeing my family use fenugreek powder extensively in home remedies.
Last week when I was talking to my grandmother about remedies using fenugreek, I was surprised at the number of home remedies that requires fenugreek as a base ingredient. I am trying to record all the home remedies of each herb separately as I thought it will be easier for everyone to find out completely about the herb without searching for the remedies individually. I always feel happy when the home remedy involves common kitchen ingredients as everyone will be able to use it.
What Is Fenugreek Powder?
Fenugreek is an annual plant with compound leaves and brown seeds. When we sun dry the seeds and grind finely, we get fenugreek powder. When I was younger, there was always homemade roasted fenugreek powder at home and before even I complain of stomachache, I will know that my mom will resort to fenugreek for treating my stomachache.
We always had a huge bottle of honey at home that is usually sourced from the local forest. Fenugreek powder when mixed with honey is the best home remedy for stomachache due to indigestion. Since we were living in a village, booking an appointment and then going to the doctor was done only in emergencies. We always resort to these simple home remedies that work wonders.
Fenugreek Powder Benefits:
Fenugreek powder is also a wonderful ingredient that solves all the problems of the hair. It arrests even the worst hair fall when combined together with a sensible diet and as far as I know, it is the best home remedy for dandruff. Fenugreek powder is also wonderful for diabetic patients as it stabilizes the blood sugar levels when included in the diet.
In my humble opinion, we should try to include fenugreek powder both in our diet and external applications more. The only thing that we have to remember when using fenugreek for our hair is fenugreek is very cooling. So if you are prone to sinus infection, please don't use fenugreek as a hair pack, as it will worsen the sinus infection, however you can use fenugreek hair oil instead.
5 Top Ways To Use Fenugreek Powder:
1.Fenugreek Hair Mask for Dandruff:
I always had dandruff from my young age. When I was younger, my mom used to apply this fenugreek seeds hair mask (methi hair mask) regularly on my hair and let it soak for 20 minutes before washing my hair. This fenugreek hair mask treats dandruff and stimulates hair growth and to this day, I continue using this hair mask.
To make the pack, take fenugreek powder in a cup. Add in curd and mix to form a slightly runny paste, let it sit for 15 minutes and it will gel. Now apply the pack for about 15 to 20 minutes before washing it off with a mild shampoo. You can also find an other hair pack recipe here.
2. Fenugreek Powder Hair Oil:
To make the hair oil, take 1/4 cup of fenugreek seeds in a tall bottle. Add in a cup of virgin coconut oil. Let it steep under hot sunlight for a day or two. The powder will settle down leaving the clear oil on top. You can use this oil as a daily application hair oil. This hair oil is so very effective for treating premature greying and it conditions the hair well too. This oil is also very very good as a pre shampoo treatment.
3. Fenugreek Powder For Skin:
Some people suffer from itchy skin, even small insect bites will trigger intense itchiness of the skin. A simple homemade bath powder made with 350 gms of fenugreek, 100 gms of turmeric, 100 gms of kasthuri turmeric & 100 gms of white turmeric will eliminate body itching very effectively.
To make this powder, sun dry all the ingredients and powder finely and store in an airtight container. When you suffer from itching, take this powder and mix it into a paste with water and apply all over the body, wait for few minutes before washing it off.
On the day you are using this powder, make sure not to use soap or other chemicals on the skin. Even people prone to skin allergies will benefit using this powder.
4. For Stomach Disorders:
When we have stomach cramps accompanied by diarrhoea, we call it "Vaitru kaduppu" in Tamil. This problem commonly occurs when we eat out a lot and consume very greasy foods.
When I was younger, this is one home remedy that I was ready to consume any time because it had honey. For this home remedy, fry fenugreek in an empty kadai till golden and powder finely in a mortar and pestle or in a dry mixer.
Then mix fenugreek powder with good quality honey. It is easier to make the children eat this mixture as the fenugreek taste is masked by the sweetness of honey. Give this powder thrice with an interval of 2 hrs. Writing these remedies that I have grown up with gives me so much pleasure :).
5. Fenugreek Face Pack:
Fenugreek face pack is very very effective for treating many skin problems. It has a soothing effect on the skin and helps reduce inflammation and it also brightens dull skin well. To make the face pack, take a tbsp of fenugreek powder in a bowl. Add in a tbsp of licorice powder and a tsp of kasthuri turmeric powder, mix well. Finally add in enough milk to form a paste and apply as a face pack. Wait for it to almost dry and then wash it off.
How To Make Fenugreek Powder At Home:
To make fenugreek powder, sun dry fenugreek seeds under hot sun till crisp. Now while it is still crisp from sun drying, powder in a dry mixer to a fine powder.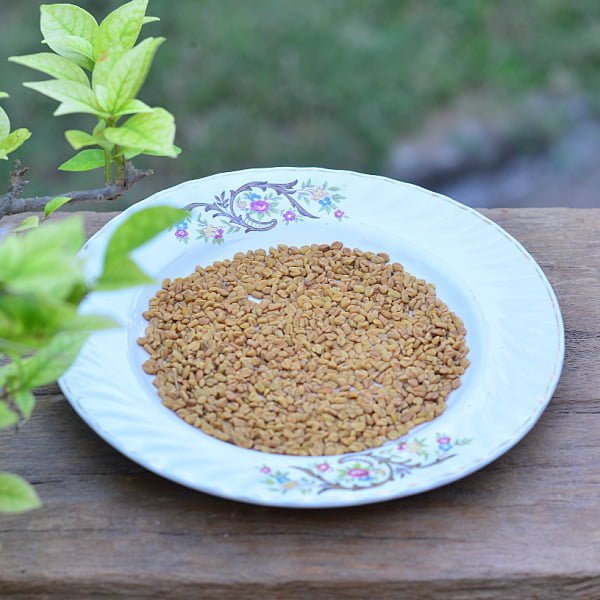 Sieve and then store in an airtight box. This powder will last well at room temperature for about a month or more but make sure to store it away from moisture.