Ayurvedic herbal bath powders have been used in India from ancient times and it does more than just clean our skin. Usually bath powders also called body wash and face wash powders are made with ingredients that have anti bacterial and nourishing properties and keeps the skin blemish free.
Herbal Bath Powders Vs Soaps:
Sadly the use of bath powders is slowly diminishing and nowadays younger generation generally prefer only store bought soaps and body washes.
I agree store bought body washes come attractively packaged and smell great but we should remember that they also come loaded with chemicals, artificial colors and fragrances.
Homemade bath powders also smell great if you add ingredients like kasturi turmeric and rose petal powder. Once you get to know the benefits of herbal bath powders, you will start using them regularly.
Bath Powder Skin Benefits:
1. Cleans The Skin Well:
Homemade bath powders cleans the skin well just equally well like store bought soaps. Soap foams so we think it cleans well but bath powders cleans the skin well too if not better.
2. Lightens Scars:
Ingredients in bath powders like turmeric, sandalwood powder lightens scars really well if used regularly.
3. Removes Unwanted Facial Hair:
Regular use of homemade bath powders weakens facial hair and helps remove it if used regularly. But the time it takes to remove facial hair will vary from person to person.
4. Prevents Skin Infections:
Since most of the ingredients used in homemade bath powders contain anti bacterial properties, they go a long way in preventing all skin infections.
5. Makes Your Skin Glow:
Bath powders acts as a mild exfoliant and removes dead skin giving a nice glow to our skin.
Ayurvedic Herbal Bath Powder Recipe:
I have already given the recipe for a herbal bath powder using rose petals but you have to sundry the ingredients and then grind them which many found difficult to do.
I wanted to share an instant version of homemade herbal ayurvedic bath powder using pure herbal powders that you can make under a minute! The ingredients used in this bath powder are gram flour, green gram flour, wild turmeric powder, rose petal powder and sandalwood powder.
This bath powder is very fragrant and regular use will make your skin glow and will keep it blemish free. This herbal bath powder can be used for both adults and babies.
METHOD:
1. Take 2 tbsp of gram flour also called as besan in a cup. Besan keeps the skin blemish free and cleans the skin well.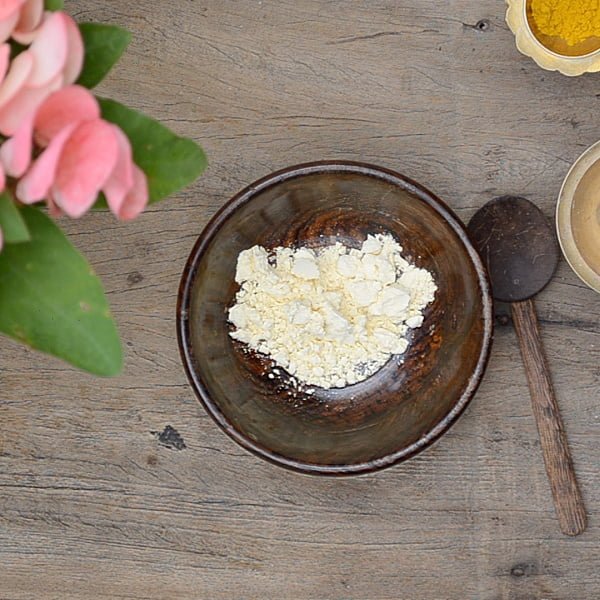 2. Add in 2 tbsp of green gram flour to it. Green gram flour is a mild exfoliant that removes dead skin gently and it also keep the skin shiny and glowing. You get green gram flour easily in the markets.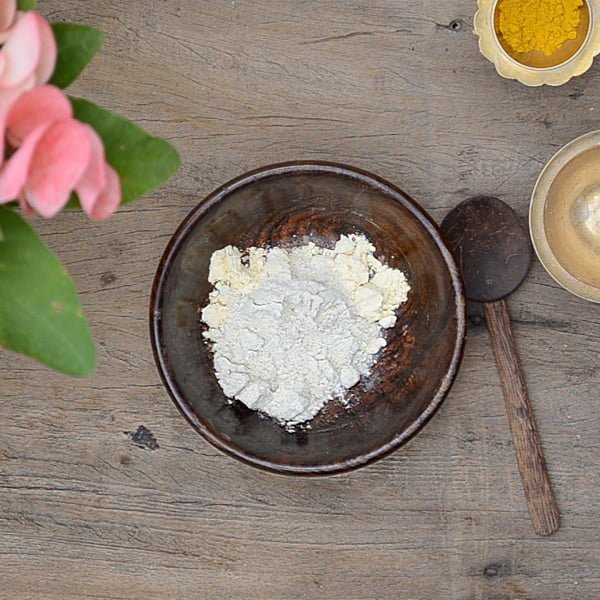 3. Add in 2 tbsp of sandalwood powder. Sandalwood powder prevents acne and helps fade scars and keeps the body cool during summer and prevents body odor.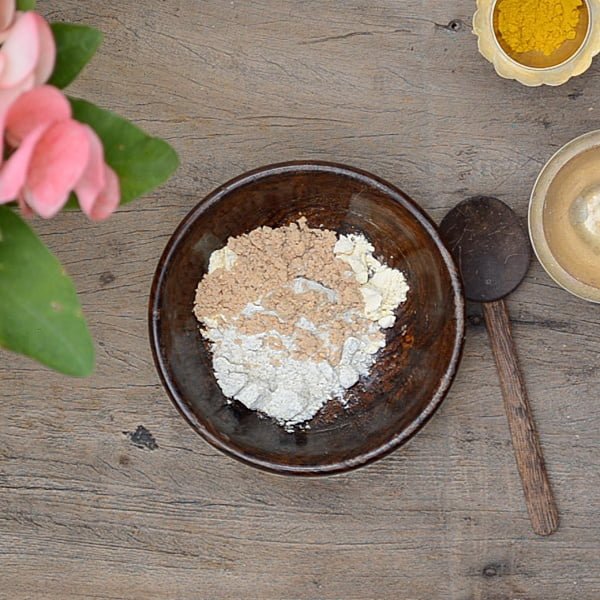 4. Add in 1 tsp of rose petal powder to it. Organic rose petal powder has amazing skin care benefits and it keeps the skin blemish free.
5. Finally add in 1 tbsp of wild turmeric powder or regular turmeric to it. Wild turmeric powder has wonderful antiseptic properties and will keep the skin blemish free. It is also very fragrant. You can get wild turmeric powder in herb shops.
6. Mix all the ingredients well. To use, Add enough water to form a paste and use it for both body and face. Make sure to store this homemade bath powder in an airtight box and use daily.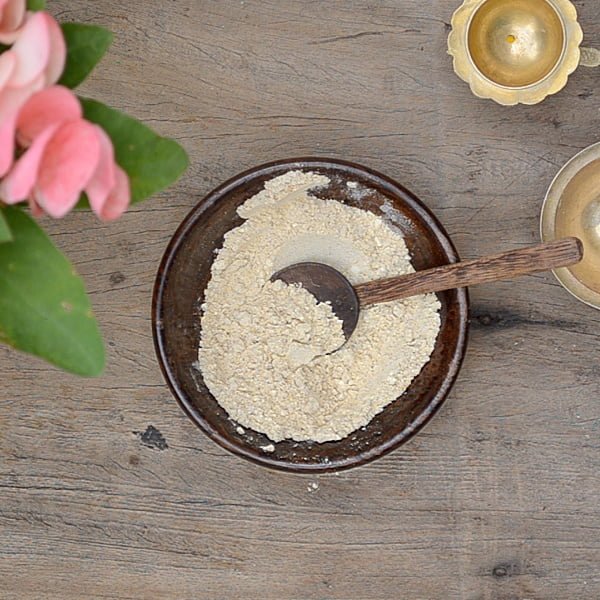 NOTES:
If you have dry skin, mix the bath powder with milk or rice water.
Try to get pure organic powders for best results.
Make small batches so it remains fresh.
This bath powder is very very fragrant.
This bath powder is very gentle on the skin and can be used for children too.