Horse gram also popularly called Kollu, Kulthi Dal and Ulavalu in India is a regular part of Indian diet. It is rich in nutrients and has wonderful health benefits. We include kollu at least weekly twice in our diet, we regularly make kollu paruppu, kollu sundal and kollu rasam at home. Kollu paruppu mixed with rice and little bit of ghee is one my favourite meals.
What Is Horse Gram?
Horse gram is a type of legume and here in India, we can get kollu very cheaply everywhere. Horse gram is grown in many states of India and apart from India, it is widely used in countries like Malaysia and Sri Lanka too. We grow horse gram regularly in our farm as a manure crop. It is a perennial climbing plant, the seeds are brown in color and are found in pods.
In our village, we consume horse gram regularly during winters as it is considered a warming food. We also regularly keep consume it during rainy season too. Kollu rasam which is nothing but a soup made with horse gram is a popular home remedy for cold and cough and nothing is more comforting than a warm cup of kollu rasam when we are suffering from cold and cough.
Horse Gram Botanical & Common Names:
Kollu's botanical name is Macrotyloma Uniflorum and horse gram is the English name (boiled kollu is one of the ingredients that is regularly fed to horses and that is why it is called as horse gram). It is called Kollu in Tamil, Kulthi Dal in Hindi and Bengali, Ulavalu in Telugu, Muthira in Kerala, Kulith in Konkan and Hurali in Kannada.
Horse Gram Nutrition:
Horse gram is an excellent source of protein and minerals like phosphorus, iron and vitamins such as vitamin C, thiamine, carotene, riboflavin and niacin. 100 grams of uncooked horse gram contains around 330 calories, 21 grams of protein, 48 grams of carbohydrates, 0.6 grams fat and 7.9 grams of fiber.
Horse Gram Health Benefits & Medicinal Uses
1. Stabilizes Blood Sugar Levels:
Horse gram has always been suggested as one of the best foods diabetic patients can take, that is because it helps regulate the blood sugar levels very very effectively. Since it keeps the blood sugar levels stable, it greatly control hunger pangs between meals. You can read the study that proves this claim
here.
2. For Reducing Cholesterol:
Kollu has been repeatedly proven to reduce high cholesterol induced by high fat diets and also it greatly aids in weight loss. Here in our place, kollu boiled water is given to people who are suffering from high cholesterol and it greatly helps normalise blood cholesterol levels and this traditional use has been backed by research now. You can read the study that proves this use
here.
3. As a Cardio Protective Agent:
Kollu has wonderful antioxidant and cardio protective properties and it greatly protects one from getting heart attack. You can read the study that proves it
here.
Contrary to what many people think, dishes made with kollu is very very tasty. I would chose kollu paruppu with hot steaming rice for lunch than attractive fast foods any day, I don't know how to express it but I feel very very satisfied after eating it. I would also suggest encouraging kids to eat kollu from young age to prevent obesity which is increasing day by day.
4. Horse Gram And Weight Loss:
Nowadays traditional foods like kollu paruppu is slowly fading and sadly many don't know how to cook kollu at all. Kollu has multiple health benefits and especially it is well known for its weight loss abilities. It has been used as a weight loss aid from ancient times.
Here in our village, if any one is over weight, they will be always encouraged to include kollu in their diet regularly. There is a famous saying in Tamil that goes like this "இளைத்தவனுக்கு எள்ளு, கொழுத்தவனுக்கு கொள்ளு" meaning for people who want to put on weight, sesame seeds will be beneficial and for people who want to lose weight, kollu will greatly help.
5. Rich In Antioxidants:
Horse gram contains phenolic compounds which are powerful antioxidants. The main phenolic compounds present in horse gram are quercetin, kaempferol, myricetin and vanillic. Antioxidants helps reduce oxidative stress by fighting off free radicals which causes premature ageing and they also have a protective effect.
Horse Gram Side Effects
Like with all legumes and pulses it contains antinutrients like phytic acid which can prevent our body from absorbing nutrients but it can be greatly prevented by sprouting the seeds and also soaking before cooking them. If we don't cook the horse gram well it can cause bloating and stomach discomfort so to avoid any side effects have it in moderation and soak them or sprout them before cooking to reduce bloating and gas.
5 Amazing Horse Gram (Kollu) Recipes:
I was given kollu regularly when I was young. Now I make it a point that my son has it too and I am happy to say, like me he also enjoys eating it. If you are looking for ways to lose weight naturally, I would strongly suggest including kollu in your diet at least weekly twice or thrice. I have given recipes using kollu that we make regularly at home, choose and try the ones that you like.
1. Horse Gram | Kollu Water For Weight Loss:
To make horse gram water, take horse gram in a bowl, add water and boil till done. Strain the water, add salt and your horse gram water is ready. You can use the boiled horse gram for making kollu paruppu.
2. Horse Gram | Kollu Podi Recipe:
To make kollu podi, take 1/2 cup of horse gram and fry in an empty pan till it changes colour and set aside. Fry 2 dry red chillies in empty pan till it changes color and set aside. Now powder horse gram, red chilli along with required amount of salt to a fine powder. Once ground, add 3 pounded raw garlic cloves along with the skin and pulse for a few seconds.
3. Horse Gram | Kollu Sundal :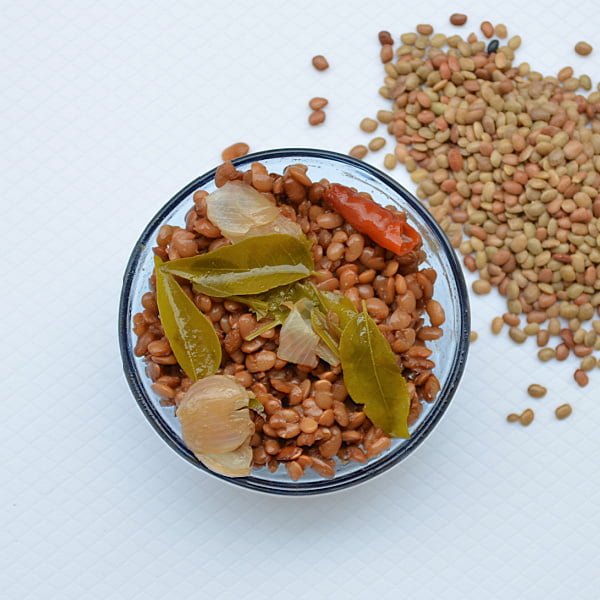 For kollu sundal, boil kollu, strain the water and take the boiled kollu alone. Now heat a pan with coconut oil, season with mustard. Once it starts spluttering, add asafoetida, channa dal and urad dal. Now add broken red chilli, curry leaves and saute well. Add boiled kollu along with grated coconut (I sometimes skip coconut). Finally add few drops of lemon juice and coriander leaves and switch off.
4. Kollu Rasam
To make kollu soup or rasam, boil horse gram with plenty of water and strain the water. Add broken red chillies, tamarind paste, enough salt, tiny pinch of sugar and mix well. Now in a kadai, heat oil, season with mustard and cumin seeds, add pounded small onions and fresh curry leaves and fry for a few seconds. Add the kollu water mixture and let it boil in low flame till it starts foaming and then switch off.
5. Horse Gram | Kollu Paruppu: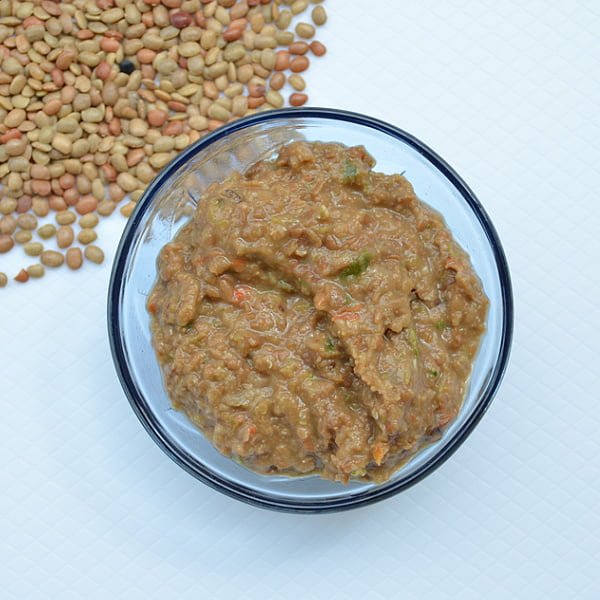 To make kollu paruppu, boil kollu and strain the water and take the kollu alone. To season, heat oil in a pan. Fry finely cut shallots and red chillies, add coriander powder and cumin powder and fry well. Add the sauteed ingredients to boiled kollu along with salt and little amount of boiled kollu water and grind to a coarse paste.