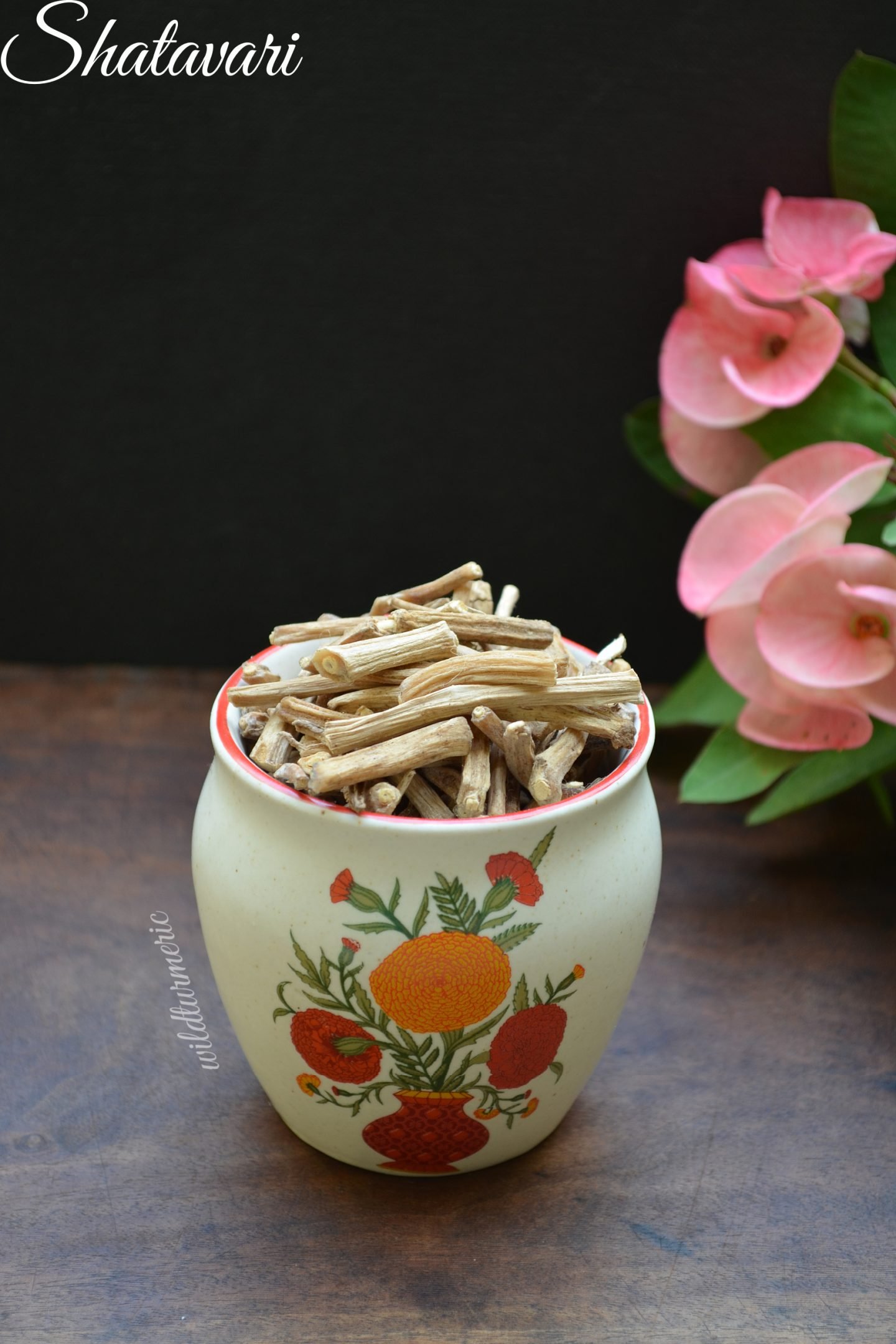 Shatavari is an amazing rejuvenating herb that we should get to know. Though its health benefits is well documented for both men and women, it is especially very useful for women. Both the dried roots and the powder are used for medicinal purposes and according to Ayurveda, it is considered to have bitter-sweet, cooling, aphrodisiac, emollient and rejuvenating properties.
Shatavari Benefits For Women:
Shatavari treats all the ailments of women. It is a rejuvenation tonic for women like how ashwagandha is for men. It is useful in all the stages of women's reproductive cycle, from regulating menstrual flow, increasing breast milk and uterine strength, preparing the womb for conception, preventing misconception, acting as a postpartum tonic, and greatly reducing menopause symptoms. So it is a real boon to women of all ages. Shatavari is also an amazing Rasayana well known in Ayurveda for increasing longevity and improving immunity and vitality.
Shatavari Benefits For Men:
Shatavari Plant:
Shatavari is a species of asparagus that can be commonly found all over India, Nepal, and Sri Lanka. It is a bushy, climbing vine with leaves resembling pine needles. The tubers are long and white in the shape of a radish. The leaves are spiky, the flowers are white, and are found in bunches. The fruits are pea-sized and turn red when ripe. Shatavari has been used in all three main branches of Indian medicine (Ayurveda, Unani, and Siddha) and especially it is regarded very highly in Ayurveda.

Shatavari Traditional Uses:
Traditionally Ayurveda is popularly used for treating dyspepsia, and stomach ulcers and for increasing breast milk. Though Shatavari is one of the best herbs for women, it can beneficial for men too. Its botanical name is Asparagus Racemosus. The word Shatavari means "one who has a hundred husbands" referring to its ability to increase fertility and vitality in women.
Shatavari Common Names:
It is called Indian Asparagus | Wild Asparagus in English (should not be confused with the asparagus vegetable), Shatavar| Shatavari in Hindi, Majjige Gadde | Ashadi in Telugu, Shatavari | Satavari in Marathi and Gujarati, Pinna Pichar in Telugu, Sadavari Kizhangu in Tamil, Chhota Keelu in Punjabi, Satawar in Urdu, Vari in Oriya, Sathavari in Malayalam, Shatmooli | Satamuli | Shatamuli in Bengali, Satomul in Assamese and Misri | Shakakul in Arabic.
Shatavari Chemical Constituents:
The root contains several active steroidal saponins which are the precursors of steroids. Shatavarin and shatavarosides are the two main bioactive components of shatavari. It has antispasmodic, anti-inflammatory, analgesic, aphrodisiac, galactagogue, astringent, blood purifying, anti-epileptic, anti-stress, anti dysentery, anti-ulcer, antitussive, antibacterial, antiprotozoal, antineoplastic, anti-urolithiatic (preventing stone formation), diuretic (at higher doses), anti-depressant, memory enhancing and antihepatotoxic properties.
Where To Buy Shatavari?
Since shatavari is a very popular medicine, it is available in almost all medical shops, and many famous companies like "Himalaya", and Patanjali" sell shatavari, it is also available in many forms:
Shatavari Powder | Shatavari Churna:
Shatavari root powder is the most popular form, it can be got in all the herb shops. Always try to buy organic shatavari powder, 250 grams costs around 350 Indian Rupees.
Shatavari Ghee:
The medicated ghee made with a combination of shatavari, ghee, and milk is sold in the shops under the name shatavaryadi ghirta.
Shatavari Oil:
Shatavari along with other herbs like ashwagandha is used to make oil for improving muscle strength. It is available in all herbal shops in India.
Shatavari Tablets | Capsules:
Organic shatavari capsules are available in medical shops and you can buy them online too. Make sure to buy from reputed brands.
Shatavari Tea:
Shatavari root is pounded and sold as shatavari tea. Some people hate consuming capsules, for them shatavari tea will be a good alternative.
Shatavari Tincture:
Though not common here in India, shatavari tinctures are also available. Tinctures are either glycerin or alcohol based, choose according to your preference.
Shatavari Extract:
Shatavari extract with a specific percentage of saponins is available. When planning to consume shatavari extract, make sure to consult an Ayurvedic physician for the correct dosage.
Shatavari Gulam| Lehyam:
Shatavari jam made with shatavari, jaggery, and honey can also be taken for improving immunity. Instead of consuming commercial jams filled with preservatives, consider medicated jams like this.

Ayurvedic Formulations Using Shatavari:
Shatavari Kalpa Granules (for increasing Breast milk), Shatavaryadi Churna, and Narasimha Churna. It is best to consume all these medications after consulting an Ayurvedic physician.
Shatavari Powder Dosage:
Generally, the daily suggested dosage is around 1 to 2 tsp in divided dosage. It can be had along with honey, milk, or warm water. Studies for determining the dosage are done only on rats so there is no scientific evidence for determining the correct dosage. I would suggest consulting an ayurvedic practitioner for the precise dosage.
Shatavari Side Effects:
Shatavari is a safe herb and can be used safely for the long term. Even pregnant women and breastfeeding mothers can consume it but should be cautious of the dosage. Shatavari has estrogenic properties and some women who have high estrogen will tend to experience breast tenderness while taking it.
10 Top Medicinal Uses & Benefits Of Shatavari:
1. For Fertility & Weight Gain:
Shatavari increases fertility in both men and women and is rightly called a reproductive tonic. Shatavari supports a healthy reproductive system in both men and women. In women, it increases uterine strength and in men, it increases the semen count, so it is very beneficial in increasing fertility. Like ashwagandha, shatavari also helps improve muscle mass and will help in healthy weight gain.
2. Shatavari Benefits For Menopausal Women:
Shatavari is useful in all stages of women's life including menopause. It helps women transition through different stages of life without much difficulty. Being a rejuvenating herb, during menopause, it reduces hot flashes, dryness, mood swings, and irritability. Shatavari also is popularly used for increasing breast growth but I couldn't find any evidence supporting this use.
3. For PCOS, Fibroids & Endometriosis:
All these above-mentioned problems affect different parts of the female reproductive system and especially PCOS is increasingly affecting more women nowadays than ever before. It has adverse effects on many organ systems and usually leads to irregular periods, excessive body weight, unwanted facial hair growth, acne, and difficulty getting pregnant. Shatavari cleanses, strengthens, and nourishes the female reproductive organs so it will be beneficial for all these 3 problems.
4. For Increasing Breast Milk | Lactation (Galactogogue):
Shatavari is very popular in India for its use in increasing breast milk. If you look at the ingredient list of medicines sold in the markets for increasing breast milk, almost 90% of them will contain shatavari as an ingredient. It also improves uterine strength which is very essential for women. Usually, shatavari powder is mixed with milk and given to the mother to improve lactation. You can read the study that proves this claim here.
5. Shatavari Benefits For Cough:
Shatavari has wonderful antitussive properties and you can read the study that proves it here. Traditionally, shatavari decoction made by mixing the root powder in hot water will give good relief from cough. Shatavari also can be used to treat hoarseness of voice and dry cough too.
6. For Stomach Ulcers:
Shatavari has been traditionally used for treating dyspepsia, intake of shatavari root powder is very effective for treating duodenal ulcers. Traditionally, a mixture of haritaki and shatavari root powder is given for treating stomach ulcers and both these wonderful herbs are very effective in protecting gastric mucosa and reducing gastric acid secretion.
7. For Treating Kidney Stones:
Another wonderful use of shatavari is it greatly prevents kidney stone formation. You can read the study that proves it here. Shatavari when taken internally elevates the urinary concentration of magnesium which inhibits crystallization (formation of stones). Shatvari also reduces high serum creatinine levels very effectively.
8. Shatavari Benefits For Men:

Aphrodisiac
Another use of shatavari is its aphrodisiac properties. Like ashwagandha, shatavari also is well known for its aphrodisiac properties. Traditionally, it has been used extensively for it and this traditional use has been backed by research, you can read the study that proves it here.
9. Shatavari Benefits For Hair & Skin:
The major reason for hair fall in women is due to hormonal imbalance, nutritional deficiencies, stress, and scalp problems. If the hair fall is due to hormonal problems, shatavari will greatly help prevent it as it is very effective in balancing the hormones. Since it helps balance the hormones, it will also greatly prevent skin breakouts like acne.
10. Shatavari For Stress, Depression & Learning:
Shatavari has some anti-depressant properties. It also enhances memory and helps in learning, this is due to its antioxidant and neuroprotective properties. It also reduces stress. Interestingly, it is less effective in reducing stress than ashwagandha (both at 100 mg per kg) but its potency increases with dosage.