Turmeric milk popularly called golden milk has many health benefits. Turmeric milk is called haldi doodh in India as turmeric is called haldi and milk is called doodh in Hindi. This milk is a very famous home remedy for many minor illnesses and it is also very easy to make it at home.
To make this turmeric milk recipe, milk is warmed with palm candy and a pinch of turmeric powder. We always use organic, grass fed whole milk from our farm for making turmeric milk and it tastes delicious but you can use any type of milk you prefer. You can consume turmeric milk any time of the day, I some times like to take it before going to bed.
We always grind our own turmeric powder, but if you could get organic turmeric powder, please use that. Once the milk is warmed, remove and add fresh pepper powder. This milk tastes really good but don't add too much of turmeric powder, just a pinch will do, else the milk will have a strong raw flavor of turmeric.
Turmeric Milk Health Benefits:
1.Turmeric Milk For Cough:
Haldi milk is the best medicine for cough. When you have a discomfort in your throat due to cough or cold, just try this turmeric milk. The pepper and turmeric together helps in faster healing. Pepper has anti microbial properties and has been used for centuries in India to treat cough.
2. Turmeric Milk For Cold:
Haldi milk is so very comforting to drink when we have a cold. Actually having a cup of this warm turmeric milk in the night before going to bed helps us get good uninterrupted sleep when we have a cold. Both turmeric and pepper helps in faster healing and this haldi milk can be used even for treating toddlers when they have cold.
3. Turmeric Milk For Weight Loss:
Haldi milk is the best detox drink. Drinking a cup of turmeric milk is the best and easy way to detox our body. It aids in natural weight loss as it keeps our digestion and assimilation in peak order.
4. Turmeric Milk For Skin:
Turmeric in the milk greatly helps in faster healing of skin diseases like acne when you drink it regularly. You can also apply turmeric externally along with drinking turmeric milk for faster healing.
5. For Diabetics:
Diabetic patients will greatly benefit from turmeric milk as turmeric improves blood sugar levels, but skip the sugar in the recipe. When you consume it regularly, it may lower blood sugar levels significantly.
6. Turmeric Milk For Fever:
Turmeric milk can be used for treating all kinds of fever. It heals the body faster from viral and bacterial infections and help patients get back to their normal self very quickly.
7. For Sore Throat:
I love to drink haldi milk whenever I have sore throat, it really helps. I used to suffer from throat infections whenever I ate watermelon (because of the high amount of pesticides in the fruit) and drinking haldi milk was my first go to remedy for it.
8. Turmeric Milk For Face:
Haldi milk can be applied to face externally too. It prevents acne and heals blemishes very quickly. But make a thick paste and skip the pepper powder and sugar.
9. For Cancer Prevention:
Regular consumption of haldi milk
prevents cancer
. Curcumin in the turmeric roots is the main reason for it as it prevents cancer cells from forming.
10. Turmeric Milk For Digestion:
Since this milk is made with pepper powder, it aids in digestion. It is especially good for children and above all it is so very comforting to drink this milk.
How To Make Turmeric Milk:
1. Heat a cup of milk with a pinch of turmeric powder and palm candy. Once it comes to a boil, remove from fire.
2. Add in fresh pepper powder and honey if you are not using palm candy. Your comforting turmeric milk is ready.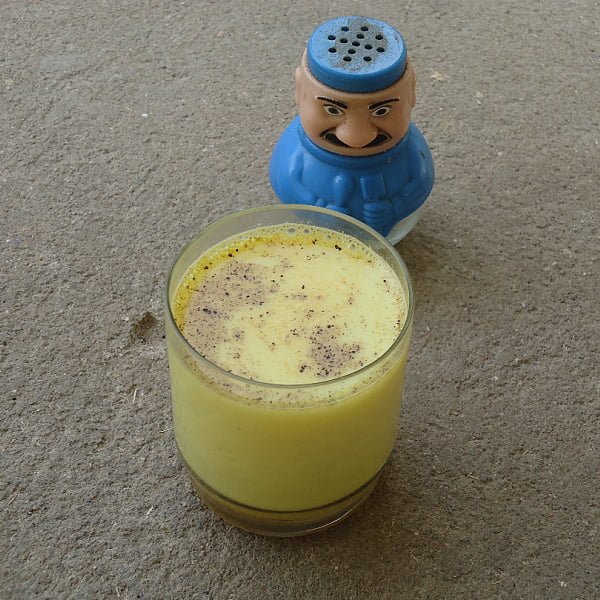 NOTES:
Don't add too much of turmeric powder.
This milk can be given to toddlers too.
This haldi milk can be had unsweetened too.
Prepare this haldi milk fresh. If you leave it in the refrigerator, it will not taste good.
Always consume it with pepper as it increases the bio availability of turmeric